Salesforce: Dreamforce
Augmented Pool
The challenge
Every year at Dreamforce the Salesforce developer community get together in San Francisco for the largest software conference in the world. 

Salesforce approached those brand experience wizards 2LK to devise a series of fun, playable experiences that communicate core values to ten's of thousands of attendees at the Moscone Center. 
Scope
Creative direction
Game design
Motion design
Audio production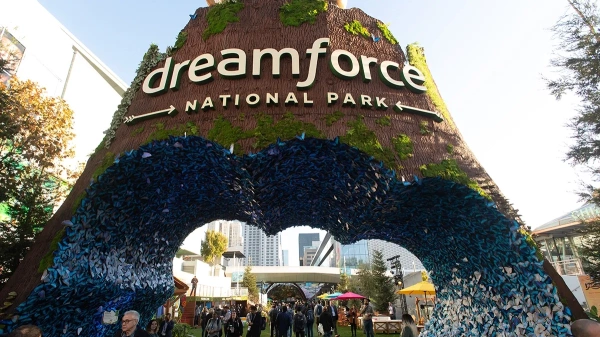 The solution
Working alongside the internal team we designed and delivered a unique augmented version of the classic bar room game, 9-ball pool. 
The twist on this version of the game was the use of tracking cameras and real-time game engine, audio and projection system to create a one-of-a-kind AR game. 

Players were invited to first undergo a short tutorial that showed them the rudiments of the game with real-time overlaid graphics.
Then with automation in full flow, they competed against each other to reach the top of the leaderboard in a winner takes all 100 second speed pool competition.
The result
Following a first successful run at Dreamforce MuleSoft Pool has made additional appearance at further Salesforce developer conference TDX. 
The addition of a real-time scoreboard made it a huge draw, and  to date hundreds of players have tried their luck, with only a select few mastering the game.