Carter Centre
Immersive experience
The challenge
To design and build a series of interactive experiences and films for a month-long exhibition about eradicating Guinea worm disease.  
This debilitating illness is spread through the consumption of unfiltered water found in stagnant surface sources such as ponds. Unfortunately, impoverished communities in remote parts of Africa are particularly vulnerable to this disease due to their limited access to safe drinking water.
The goal of the experience was to educate visitors about the global impact of the disease and raise awareness of efforts to eradicate infection. 

Scope
UX
VR
Film production
iPad app dev
Real-time dev
Touch table dev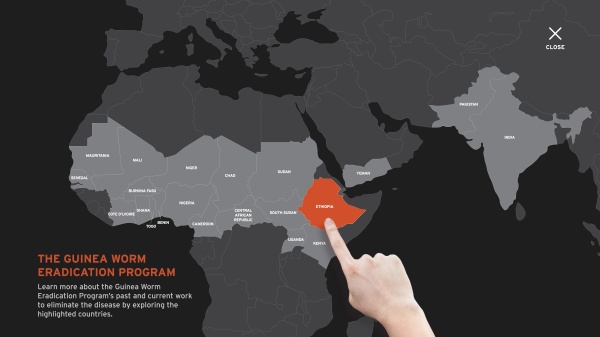 The solution

We designed and delivered a number of experiences that could be understood by a diverse audience of all ages and nationalities.
These included an interactive touch table to explain the life cycle of Guinea worm, a virtual reality experience to transport visitors into the heart of a North African village, and data visualisations that could be understood by all visitors. 

The results

Great progress has been made towards elimination of Guinea worm disease; the number of human cases annually has fallen from 3.5 million in the mid-1980s to 15 in 2021. 

Thousands of visitors attended Countdown to Zero over the course of the month, raising awareness of Guinea worm disease and the efforts to eradicate it. 
We are proud to have been a part of such an important project and to have helped make a difference in the fight against this devastating disease.